How Vivace Microneedling Works
Vivace leverages the power of robotic microneedling combined with RF energy to effectively address fine lines, wrinkles, and pore size. It goes beyond lifting, tightening, and enhancing tone and texture through collagen stimulation. Vivace also works wonders on the appearance of acne scars and even stretch marks. Results are not only immediate but also build over time, and for added benefits, you can opt to combine it with PRP.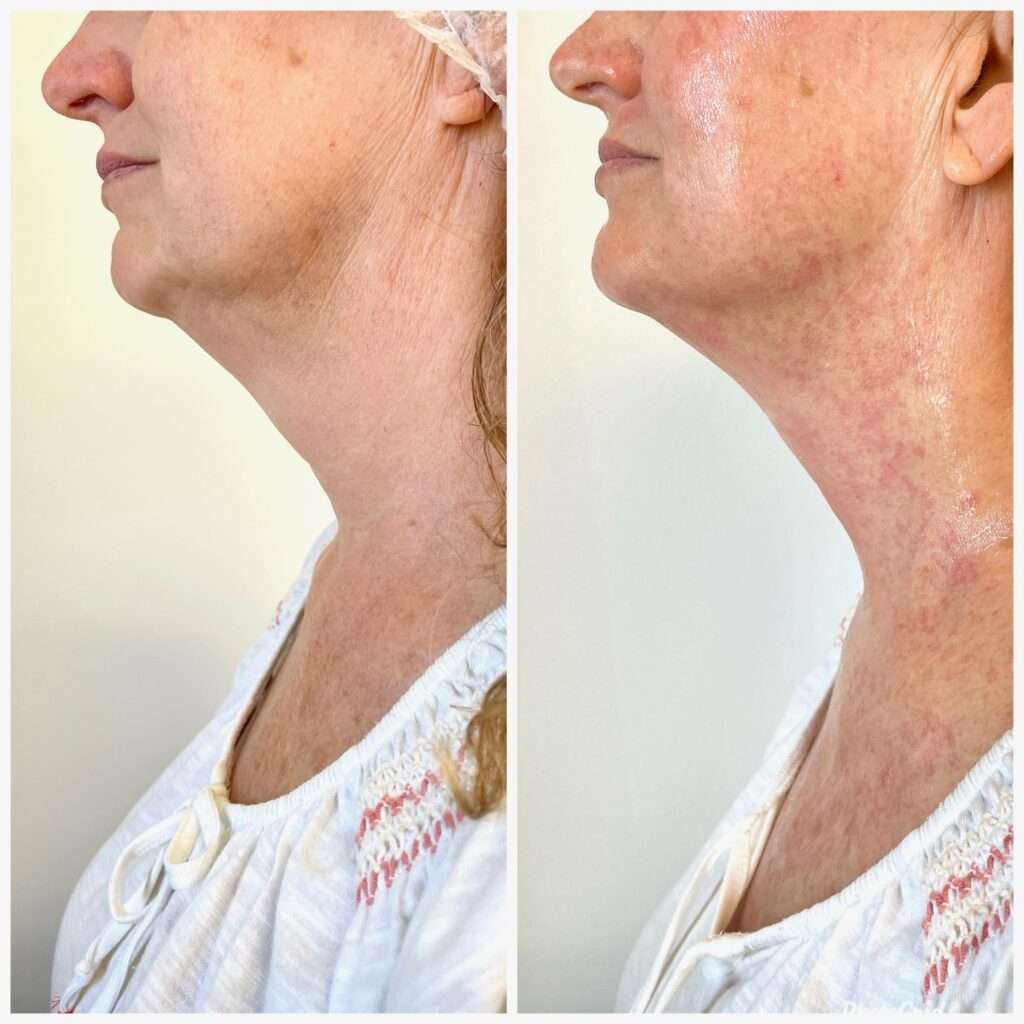 What to expect during the treatment
The Vivace journey begins with a thorough consultation. A topical numbing cream is then gently applied, allowing it to work its magic for approximately 20 minutes before removal. Following this, we apply a growth factor serum or PRP to your skin. The Vivace device, with its sterile and disposable handpiece tip, glides along your skin, expertly delivering precise amounts of Radio Frequency energy directly into the skin while microneedling. The entire procedure takes approximately 1.5 hours and is designed to be comfortable, with no downtime required.
Experience the Benefits of Vivace RF
Vivace RF, available at Amazing Skin in Allentown, PA, offers a plethora of remarkable benefits that can enhance your skin and elevate your confidence. This innovative treatment effectively diminishes fine lines, wrinkles, and pore size, resulting in smoother and more youthful-looking skin. By harnessing the power of radiofrequency energy combined with robotic microneedling, Vivace RF not only lifts and tightens but also enhances skin tone and texture through the stimulation of collagen production.
Diminishes fine lines and wrinkles

Reduces pore size

Achieves smoother, youthful-looking skin

Lifts and tightens the skin

Enhances skin tone and texture

Stimulates collagen production

Addresses acne scars and stretch marks

Immediate and cumulative results

Non-invasive and minimal downtime

Provides a revitalized and rejuvenated appearance
What to Expect After the Treatment
Post Vivace Treatment, we may apply a post-treatment mask or additional PRP as needed. Immediately following the procedure, your skin may feel gently tightened and slightly tender. Although it is considered a no-downtime service, some individuals may experience minor redness or mild swelling. Your practitioner will recommend appropriate post-treatment serums and provide specific instructions.  Keep in mind that collagen production continues to improve in the weeks following the treatment, leading to even more remarkable results. Embark on your journey with the Vivace Experience at Amazing Skin in Allentown, PA, and rediscover your natural beauty. If you're ready to discover your natural beauty and enjoy the results that Vivace RF has to offer, schedule your consultation with us today. Together, we'll create a personalized treatment plan tailored to your unique needs and help you achieve the radiant and youthful appearance you deserve.